We are going to take you on a tour of Killarney & what you can see
Killarney is situated in the Heart of Kerry and a great base to visit many attractions in the surrounding area.
After years of meeting visitors I see many spending their Vacation living out of a suitcase, I have done it myself. I do recommend at least a few days in Killarney and because of its location its ideal for visiting the Killarney National park and maybe take a day out on your holiday. You can also visit the Wild Atlantic Way and the Ring of Kerry, the Skellig Ring, Dingle Peninsula and the Beara Peninsula without changing your accommodation.
Beautiful Scenery in Killarney & beyond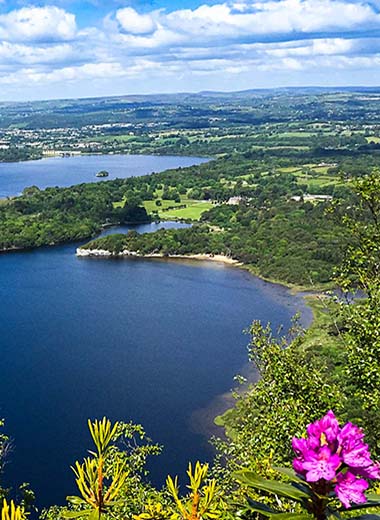 Muckross Abbey, Muckross House and Gardens, Torc Waterfall, Dinis Cottage and Ross Castle.
Ireland's Showcase drive, take a bus but we prefer to drive and go off the beaten track and find some magical places that will blow your mind.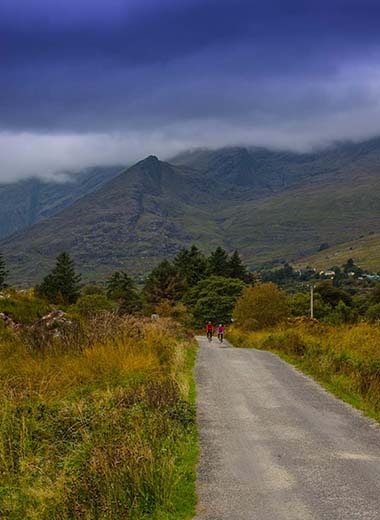 A great day Tour, an outdoor adventure, we prefer to cycle but you can also walk of take a Pony and trap. There is a magical 22km boat journey through the killarney National park.
Longer brighter days, Birds singing, Bluebells, Wild Garlic, Trees and plants flourishing, Eagles nesting
A great buzz around, people dining and drinking outside enjoying the Summer.
Amazing colours appear in the National park, the Sounds of the Deer in the National park
A nice time in Killarney friendly locals have even more time to talk with visitors.
Killarney is in the heart of "The Kingdom of Kerry"

Access to the Ring of Kerry, Dingle Peninsula & much more
Try our Ring of Kerry self-guided tour